The higher convenience and fastness you offer to a consumer for reaching out to your business (for information, answer or support) the better. This is key in developing a positive brand-user experience and it can have a strong impact on your business results. Messaging is becoming one of the best ways for businesses to get there and delight consumers in a mobile-first environment. Indeed, « 89% of consumers want to use messaging to communicate with businesses (Source: Twilio, 2016) ». It was also reported that « 75% of consumers now prefer to engage with a brand over private messaging channels versus traditional channels ».
Google's New 1:1 consumer-brand messaging service is now publicly available and offers you the opportunity to upgrade your customer support online.
It is free and delivers consumers a rich and instantaneous 1:1 conversational experience with your brand directly and only from their mobile device.
What does it offer?
This solution makes available chat bot functionality directly from Google Maps, Search, and your business website, by combining Google's smart automated bots with your live-agent for customer support.
Practically, mobile users who look for your brand online will see a messaging button displayed alongside their local and organic search results on Google.com, or a chat widget on your business website (see screenshots below). When they click on the message/chat option, they can start a conversation with your brand's agent. The agent lets you receive and respond to the user's messages.
The tool also offers rich features like carousels, suggested replies, and photos, to upgrade the conversation.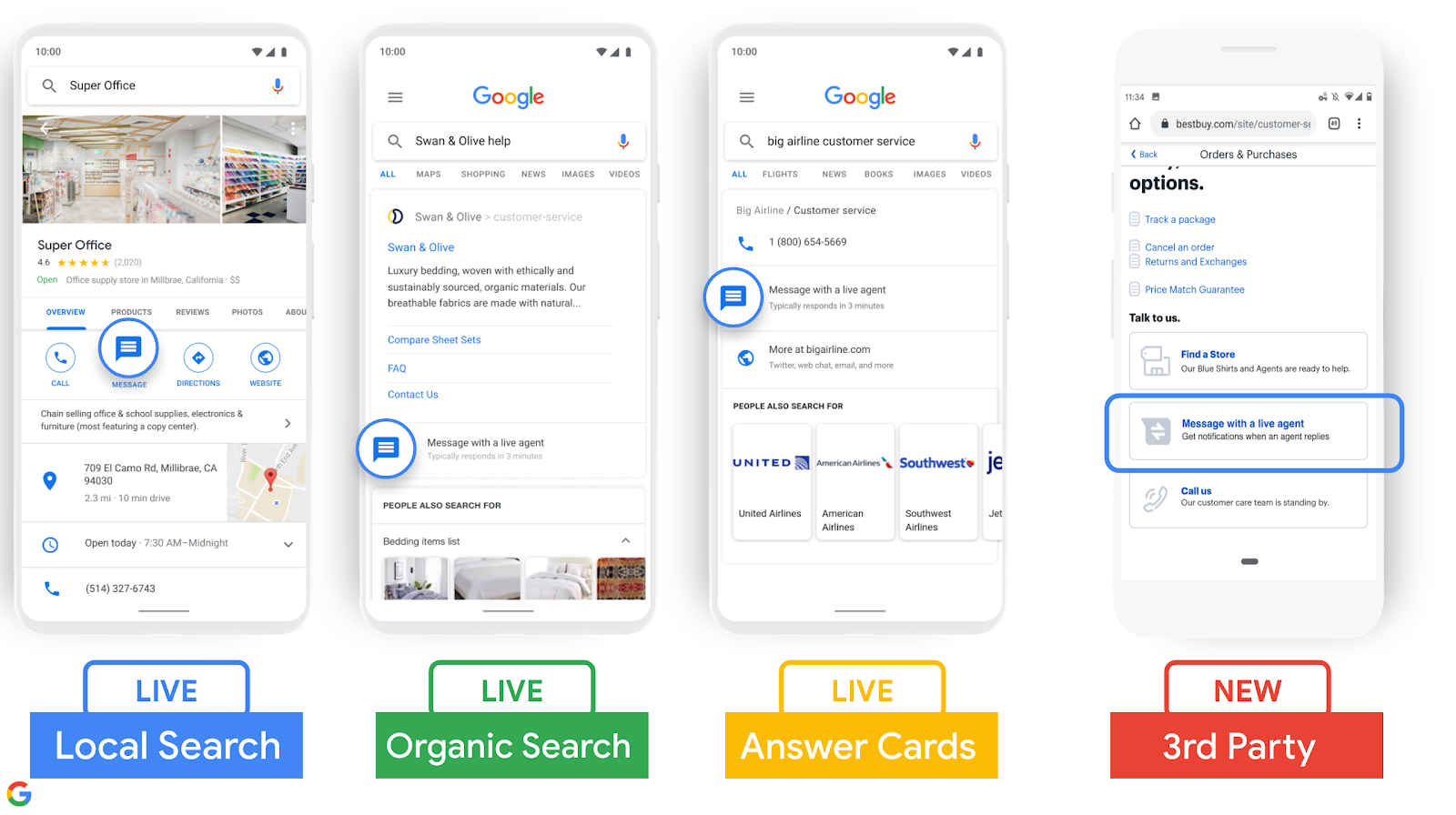 Business Messages is available for all Android users, and through Google Maps on IOS.
Try it for your Business
The service has already been tested for months in a beta version by some big brands and shows a Customer Satisfaction rating average >80%. On top, it is expected to evolve in the coming months, expanding availability in even more places on Android, including within apps and during calls.
It is now your turn to take this opportunity, as it is public and free, to offer your consumers convenient and satisfying connections with your brand whenever and wherever they need it.
Messaging experience enabled by this channel can serve you for different business applications like customer care, product selling, answering diverse product- or business-related questions, driving loyalty, etc.
Main prerequisite: Having an existing customer chat solution enabled or a plan in place to support this channel.
If it is the case, you'll need first to register as a Partner for Business Messages which will allow you to create a conversational agent. The resources below will help you to proceed further:
Learn more about Business Messages via this link
To get more info and request a demo please contact

This email address is being protected from spambots. You need JavaScript enabled to view it.

Follow the specific Google's guide for developers to register as a partner and for further implementation

This new solution highlights Google's clear intention to offer a broader range of functionalities that help businesses maintain quality experience with their consumers over their network. They worked on a service that adjusts to an evolving mobile-first consumer behaviour. Consumers want more direct, easy and immediate contact with brands, whenever they need it.
In the same line of Facebook Messenger for Business (offering chat solution for businesses via Messenger app or from a Facebook Brand's Page), Google Business Messages takes it to a broader level. As it is now deployed on the n°1 platform where people look actively for information with a clear intent (Search & Maps). And it goes even further by adding the possibility to integrate it directly within your own business website.

In a nutshell, Business Messages provides a comprehensive and delightful 1:1 online messaging solution in order to help your business improve customer support and decrease pressure on support calls, build stronger consumer satisfaction and trust, and drive better business results.
---
Tags: