Risk keeps people awake at night, keeping them from pursuing their dreams. We all want to leave our dent in the universe but our instinct to avoid risk makes us give up on the projects that matter most. At AXA, we're not in the business of insuring risk, we're in the business of empowering dreams.
Our target, aged 25-44, perceives financial services as being one of the least 'sexy' industries. So how do we let them know that we've got their back? The dreamers are fond of binge-watching. No longer restricted by linear TV-schedules, their consuming habits have kicked into overdrive. As a result, the content binge phenomenon was born. This taught us a new era of content creation & delivery.
Riding the binge-watching wave, we looked at this new way of consuming content. Humour became our serious strategy. As such, quirkiness was introduced as an aspect of AXA's new tone of voice. When it comes to advertising, we have always relied on our TV commercials. This time we wanted to experiment with online video beyond a single creation and traditional 30-second spots. And so, in October 2017, an entertaining, humorous web series called "Who's Next?" was launched. The series consists of six, 90 second, episodes showing future innovators on their mission to solve world problems. Unfortunately, something goes wrong every time, but that's OK, because AXA is on the lookout.
We struck the right balance of paid and owned media with this campaign by creating a blog where all web series could be watched. The blog did not only serve a streaming purpose but shares the six global issues AXA is watching for, like global health and environmental issues. Next, we front-loaded media spend to promote it by running TrueView ads on Youtube and outstream native video advertising on Teads, letting organic buzz ripple outwards from there. The goal was to reach 1 million completed views. Knowing that we count 11,35 million Belgians, the goal was extremely ambitious, almost unrealistic given the non-standard length of the video. 90-second videos was a bet, especially in the insurance industry.
The campaign garnered over 4M impressions. 1.647.747 people watched the video for at least 30 seconds. From this group 1.076.873 completed a full episode. Meaning that not only did we surpass our objective by 7,6% but the view rate was 266% higher than any average video advertising campaign in the industry. The ads also inspired viewers to take action: 15.000 users watched on average 2 other episodes on the website. Amazing results where the content of the video itself and the unique tone of voice (never used in the insurance industry before) for sure played a key role!
Our greatest media challenge? Given the length of the videos, we were sceptical whether the goal was attainable. So how did we do it? We installed a test & learn approach. Rather than guessing at what users would want to see, we ran different skippable ads. Then, using real-time analytics to see which version was resonating with our target audience. We looked at three metrics: how long people watched, the percentage of video view completions and how many people clicked-through to watch more episodes. By quickly pinpointing the best-performing ad, we could put the money where the magic was.
The results have been overwhelmingly positive, but the benefits don't end there. Within the company, people are extremely proud of the work that was done energizing the company culture.
This case was nominated as a finalist in the Google Premier EMEA Partner Awards in the category video excellence 2019.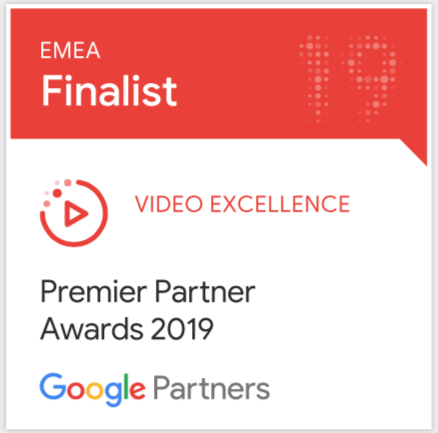 ---
Tags: