Last week Instagram launched a new feature: the Instagram Poll Sticker. Is it just another cool gadget for the tech savvy youngsters of today? No, we discovered that it is actually a very useful new tool to perform market research on a Millennial audience.
What are Instagram poll stickers ?
Instagram's new tool is making their Stories more interactive by introducing users to poll a two-optioned question in order to receive direct insights from their fans. According to Jason Mander, Chief Research Officer at GlobalWebIndex, it is a new tool for users to get an idea of what their followers are thinking.
How to use it and how to evaluate it?
Before posting the story, users can now select the poll sticker from the stickers menu and easily add the poll. Next, they can type the questions that's on their mind and include two suitable responses. Once the poll has been created, the user can drag it to the desired destination and submit the post.
The creator just needs to watch his Stories over and over again in order to view the latest poll results. When swiping up on the post you will get into a more detailed menu containing the current number of votes on each option. Instagram also includes a breakdown list to see which option every respondent voted for. Fans of you channel will only see which choice is in the lead after voting and can see updated results every time they rewatch the story.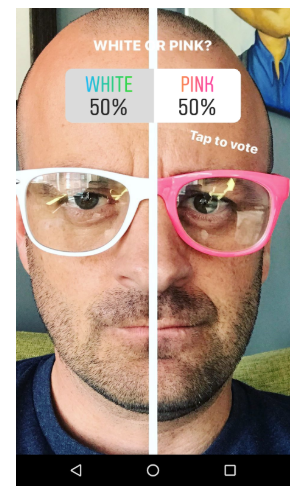 What does this mean for brands?
Brands can from now on directly engage their audience by offering a way to express their opinions. It's a new creative way of measuring how a fan base responds to the latest products or ideas. The data from Instagram polls can be combined with behavioral data to gather deep insights about interests and trends from your core audience.
Nevertheless brands should be careful. The data from those polls is coming from your direct fanbase, and should be considered a sample that does not represent the whole population. We find ourselves in the niche of hardcore fans. The polls can not be used as a promoted Instagram Stories post so there is no way of reaching people that are beyond your community.
Like every normal Instagram Stories, polls and their results will disappear after 24 hours. That's why this format could be used for more profound questioning, while assuming to receive honest answers because the results are not permanent and Instagram is in its core a platform on which people express themselves.
How Nextflix aced this feature within 24H after its release
Netflix was very quick in understanding how useful the polls could be. In less than 24 hours they started retrieving insights. With over 500.000 followers in Belgium and The Netherlands, Netflix has a big community to play around with. Questions like "do you tell spoilers to your friends?" sound very market-research-ish and enables to enhance their service even further. Did Instagram just introduce a possibility for big brands to do research on Millennials?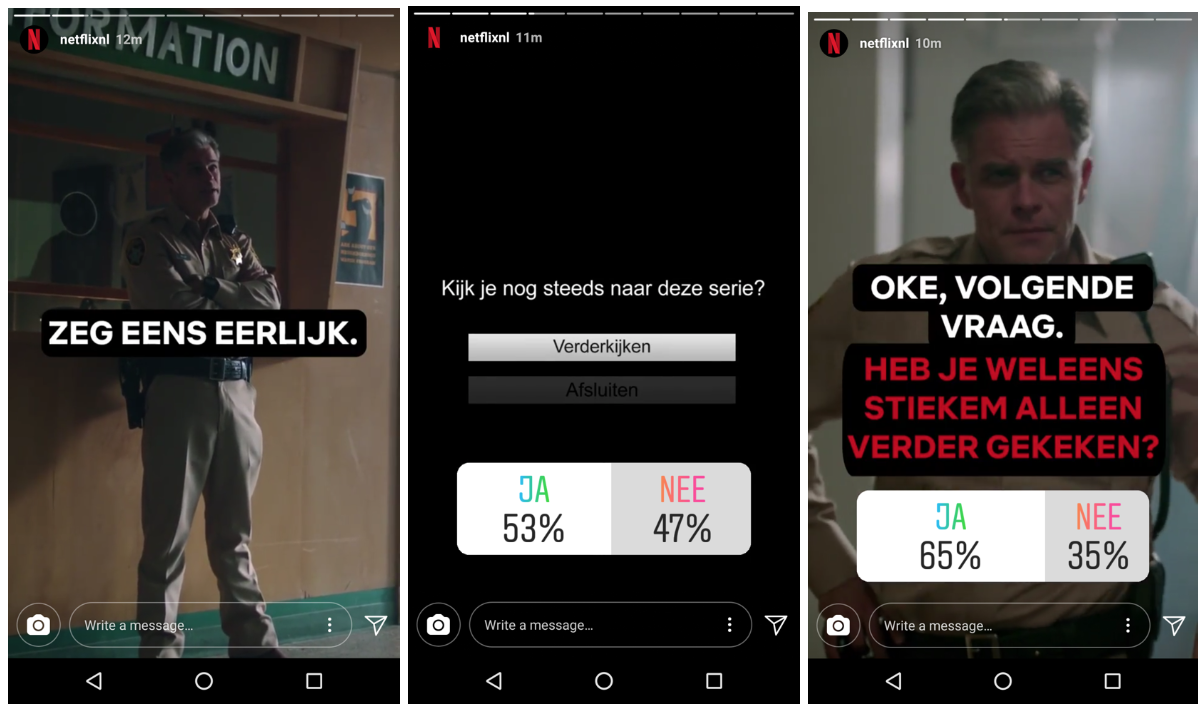 ---
Tags: