For several months, a new application has appeared on google ads accounts. Google now gives the possibility to know its optimization score. What does this mean? How to use it?
What is the optimization score?
First of all, the optimization score is a percentage that highlights the potential of each google ads account. Thus, calculated on a scale from 0 to 100%, the higher the score, the better the account is configured and the less it needs to be optimized.
The optimization score can be found in the account, on the top left in the tab called "recommendations" and looks like this: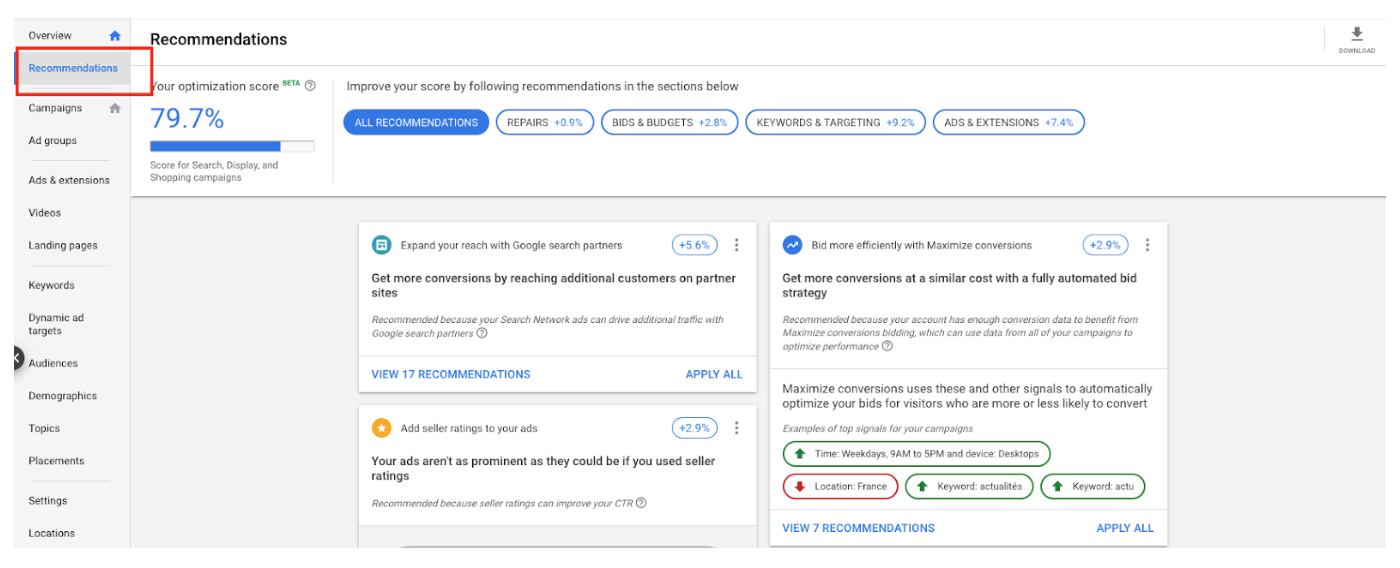 How is it calculated?
The optimization score is calculated by Google in real time and is based on different factors:
The statistics, set up and different statuses of your account
Relevance of possible recommendations
The history of the recommendations
Search trends for ads
Google will then look at the different factors and weigh each optimization it thinks will improve the performance of your account to determine the optimization score.
Recommendations
The optimization score is accompanied by several recommendations. This in order to improve the optimization score and the performance of the account. Each recommendation also indicates the impact it will have on the optimization score if applied. There are recommendations at the account, campaign and administrator account level.
Note that the accumulation of all recommendations will give a percentage above 100 because some recommendations are linked to each other and will not be applied once another recommendation is applied.
Apply or dismiss recommendations
If you like a recommendation, you can easily click on view and then apply. It will be directly effective and may impact the performance of your account. On the contrary, if a recommendation doesn't seem to be suitable, it is possible to dismiss it by clicking on the cross in the top right corner. Both applying or dismissing a recommendation will have a positive impact on your optimization score.
Use the optimization score with caution
When analyzing the optimization score, it is important to judge it objectively and take into account your personal goals. Indeed, google does not always have the same objectives as yours. Moreover, the optimization score is based on artificial intelligence. It is therefore essential to evaluate it and to add your reasoning and your knowledge on your account to evaluate the optimization score and its implication on your results.
It is therefore not fundamental to aim for a score of 100% but to get as close as possible to it.
Finally, to conclude, we can say that the optimization score is a great innovation brought by google. Indeed, it allows everyone to have an idea on what it is possible to improve to get closer to google's goals and this in a very fast and easy way. However, it is necessary to take it with hindsight and use it to a good extent for it to be fully efficient.
---
Tags: