In a forever evolving world, a company cannot only do its business on its own. Today, we wanted to share one growing trend in our markets: Online Trade Marketing.
Trade Marketing is actually a pretty old B2B marketing concept, well known by retailers and suppliers in the offline world. Trade marketing is the basic idea of marketing your products through the value chain and at the point of sale i.e. the store. In the offline world, trade marketing can mean a whole range of promotions of the supplier's products at the retailer and includes activities such as - ensuring prominent display of the product, branded merchandise or more shelf space. According to a BCG study in 2012, Trade Marketing represented a 500 billion dollars business.
The ultimate goal of the supplier is then to increase demand through partnership.
Over the past years, we have been observing 3 major trends:
Ecommerce sales are booming
In-store traffic is declining
Online marketing efforts have a growing influence on brick and mortar activities.
Given these major trends, at Semetis, we believe it makes total sense to take the Trade Marketing as an opportunity to grow the digital side of your business.
To summarize, online trade marketing is the process of a supplier shares ressources (financial, creative materials, ..) with a chosen retailers with the goal of promoting one or more of the supplier's products. This enables the supplier to increase its visibility online and within the retailer's environment. This process will then generate increased sales and increased revenue for both partners.
Here is another definition given by Google in their Think with Google article:
"Digital trade marketing gives retailers a way to increase sales and margins, fund traffic acquisition and strengthen supplier relationships. For manufacturers, these tools are a way to increase sales, gain insights into campaign effectiveness and optimise return on advertising spend."
Here is what Trade Marketing look like in digital: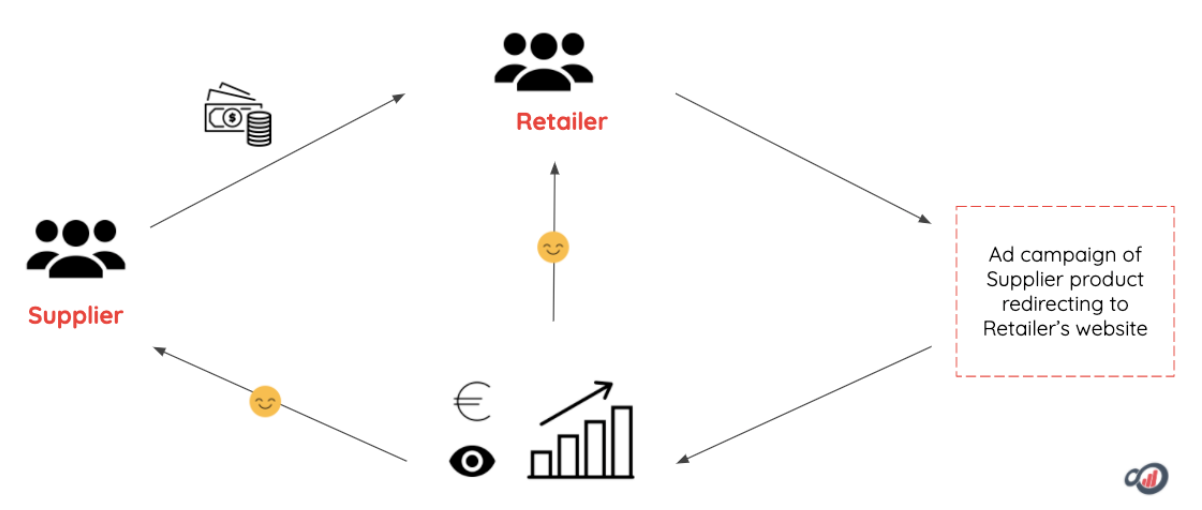 Trade Marketing is then linked to benefits for both parties:
The Retailer will be able to unlock larger marketing spends, which will generate incremental revenues and budget. This will also lead to gains in market share. Pursuing Trade Marketing budget is then a way for retailers to stimulate their own growth
The Supplier will increase its reach and visibility online as well as on the retailer's website. Trade Marketing will then also lead to an increased market share for the supplier compared to other suppliers of the retailer. Finally, investing in such tactics will surely strengthen the relationship between the supplier and retailer which could lead to incremental benefits.
Another really interesting plus side of online trade marketing is the improvement of consumer experience. Indeed, by activating trade investments online and by doing so using the technology and data, retailers can show the right product of the supplier to the right person at the right time and place. Online ads can be personalized and will drive relevant traffic and sales rather than in-store media for everyone and anyone to see. With today's technology, retailers can not only count ecommerce sales but also measure store traffic and sales.
As the trend continues, we see solutions popping up to help both retailers and suppliers to engage in online Trade Marketing. As an agency, it is our role to educate our clients (both retailers and suppliers) on the concept as well as on the best strategy for them. At Semetis, we aim to guide them through the challenges they will face and share our best practices in order to establish and maintain these key relationships.
---
Tags: