2020: what an unusual year! During the periods of confinement, many people found themselves alone at home looking for something to do. Some of them turned to the inspiration platform: Pinterest. In fact, according to Pinterest (Global Results Feb-April 2020.), engagement on the platform has increased significantly compared to 2019. More searches, more users, more boards created etc.
Pinterest is a platform that pushes the user out of the domain by redirecting to the original website of the pin's content. It is an inspiration platform that is present at every stage of the consumer funnel. Pinterest is therefore a medium that can be interesting for your Brand.
In this article you will find the different ways to communicate on Pinterest and how to get started.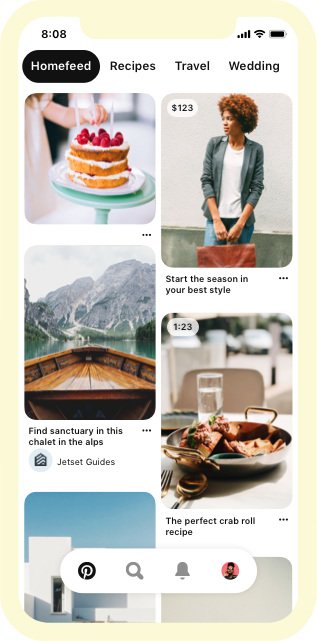 To begin with, you need to create a business account. This involves creating a profile and verifying your website. The business account allows you to access other formats and track performance in the dashboards.
After creating your profile, you will be able to create organic pins (equivalent to a Facebook post, a Tweet on Twitter, etc.) highlighting content from your site and then promote them as paid ads. You also have the possibility to create paid ads directly in the ads manager without creating organic pins. Paid ads allow you to have control on the objective and the desired audience to target.
The structure of a campaign on Pinterest is quite similar to other platforms for creating digital advertising campaigns. It is as follows:
Campaign - Ad group - Ads
There are different settings at each of these levels and we will go through them together.
Campaign
At the campaign level, you will be able to choose the objective towards which you want your ads to be optimised.
You can therefore choose between several objectives depending on the goal of the campaign (Awareness - Consideration - Conversion).

Concerning the budget, there is the possibility to add a maximum limit at the campaign level although the budget is set at the ad group level except for the "consideration" objective. Indeed, since February 2021, the consideration objective proposes budget optimisation at campaign level.
For that objective, it is also at this level that you will specify the campaign dates.
This option is also available for awareness and conversion objectives but in Beta.
Ad group
As mentioned above, the general rule is to set your budget at the ad group level but they are doing a move towards campaign budget optimization. The budget can be of the daily type or lifetime (total over the entire duration of the campaign). You will also specify the period of the campaign for the objectives other than consideration.
Next, you will be able to select the audiences you want to target. You can specify to which people you want to push your ads. Targeting can be done according to different types of criteria:
Automatic targeting (no restrictions) based on the content of the pins
Demographic data
Interests : "Select topics related to your ad to reach people with similar tastes."
Keywords: "Include or exclude keywords or phrases to target people as they search on Pinterest."
Customer lists
Act-like (similar audiences)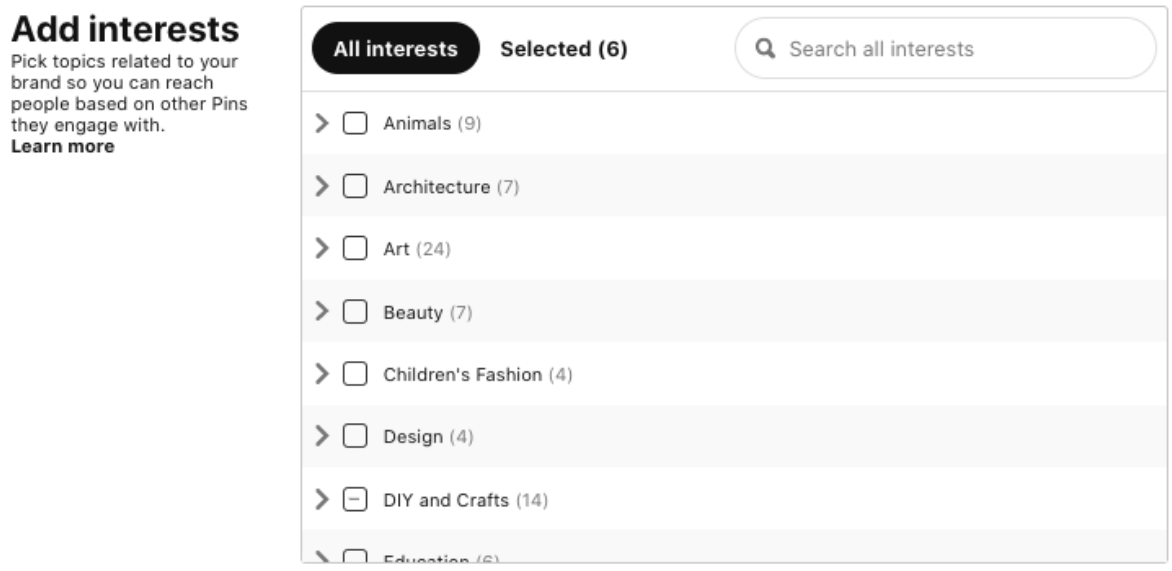 In addition to your audience, you have the possibility to choose where your ads will appear:
Browse: your ad will appear on the home feed of the user or in the related pins
Search: your ad will appear in the results after a user types a request in the search bar.
By all means, it is recommended to select both placements.


Ads
After creating the ad group, you will be able to promote pins or create new ones directly in the ads.pinterest interface.
Different formats are available depending on the campaign objective.
Standard Pins
Standard width video
Max. width video
App Install
Carousel
Shopping
Collection
Story (not all countries)
Some examples (standard pin - max. width pin - carousel pin) :
You'll find creative best practices here to have better performances with your pins.
In order to create a campaign, make sure you install the pinterest tag and fill in the necessary billing information. For the tag go to Ads > Conversions. You will also have to claim your website.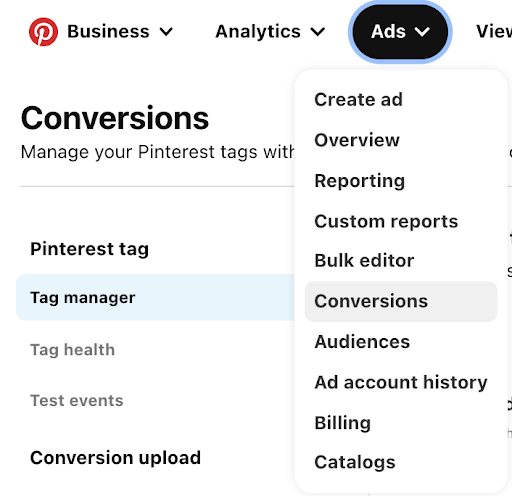 You now have all the information you need to create your first campaign. To go further, check out our article on Pinterest Shopping here. This will allow you to create organic and paid pins based on your feeds.
---
Tags: