Why combine Shared Budget and Smart Bidding in Google Ads?
You want to leverage Google's newest automation features to boost your Google Ads performances, and your efficiency.
More specifically, you want to automate budget management and automate bidding in Google Ads.
Automated budget management implies that you no longer will have to adjust daily budgets per campaign. Instead, the proposed solution in this article will manage the foreseen (daily) account budget across all Google Ads campaigns.
Automated bidding takes over the manual work of placing bidding on keyword or ad group level. Instead, the proposed solution will automatically adjust the bidding in function of your objectives.
Google's Automation Features to make this happen:
Shared Budget: An automated way to allocate budgets across different campaigns depending on their performances in relation to your objective.
Automated bidding strategies:
Maximize Clicks,
Target Impression Share,
Target CPA*,
Target ROAS*,
Maximize Conversions*,
and Maximize Conversion Value*.
*Smart Bidding is a subset of automated bid strategies that optimize for conversions or conversion value by using machine learning.
As of now, we will focus on the combination of the Smart Bidding Strategy: Maximize Conversions and Shared Budgets.

How to combine a Maximize Conversions Bid Strategy with Shared Budgets?
In this section, we will guide you through the set-up of a Google Ads campaign with a bidding strategy set to Maximize Conversions while using Shared Budget.
Troubleshooting
You were trying to maximize conversions for a Google Ads campaign that is part of a Shared Budget and you got the following error message:
"The bidding strategy does not support shared budgets"
We have the solution.
It will allow you to optimize your campaign* for conversions while being part of a Shared Budget.
*Limitation of Shared Budget: you can not use Shared Budgets for Smart Shopping campaigns (February 2020).
You need to create a portfolio bidding strategy.
We will show you how to complete the set-up with an exciting example:
Optimizing towards Google Store Visits with a Shared Budget
In this set-up, the objective is to maximize the number of Store Visit Conversion while applying a Shared Budget across all campaigns.
As a reminder:
Maximize Conversions: A Google Ads Smart Bidding Strategy designed to Maximize Conversions.
Store Visits (in Google Ads): An extrapolated estimation of the number of Store Visits that were generated after an interaction with a Google Ads ad within a (by default) 30 days post-click window.
Shared Budget: An automated way to allocate budgets across different campaigns depending on their performances in relation to your objective.
How to set it up?
Portfolio Bid Strategy
As mentioned, Portfolio Bid Strategies are the key to combine smart bidding and shared budgets.
In your Google Ads account go to 'Tools & Settings". Under the column "Shared Library" click on "Bid strategies".

Click on the blue "+" and choose "Maximize conversions". Name your portfolio bid strategy and select the campaigns for which you want to maximize the conversions within the same Shared Budget.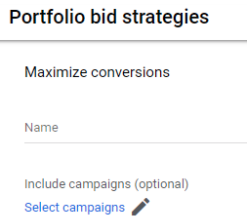 The selected campaigns are now set to optimize for all conversion actions you've set to be included in "Conversions" at the account level. This is the default set-up.
As you might know, in a Maximize Conversions bidding strategy, you can specify which conversion you want to optimize for. This could be any of the conversions which you find back under 'Tools & Settings' > Measurement > Conversions. Then you would need to make sure to tick the boxes for 'Include in "Conversions"'.
In your campaigns settings under 'Additional Settings', you can select the specific conversion (or conversion set) you want to focus on.
In our example, it is here that you select the 'Store Visits'.
Shared Budget
Next, go on to create the Shared Budget. Go back to "Tools & Settings". Under the column "Shared Library" click on "Shared budgets". Click on the blue "+".
Name your shared budget and enter the average you want to spend each day.
Then add the Shared Budget to the campaigns which are optimizing for the portfolio bid strategy.
You are all set !
Use case
Context: Omnichannel player with a strong focus on in-store sales.
Goal: Maximize Store Visits
Maximize Conversions (Store Visits) x Shared Budget
Company Z's focus is to drive footfall traffic to their local dealer network.
During past years, they have always pushed towards a 'Dealer Locator' functionality on their website. 'Searching for a dealer' on their website has been the most meaningful conversion in the struggle to close the loop between digital investments and the actual return on ad spend.
Now, a powerful new feature: Google Store Visits, allows them to optimize one step further in the buying journey: visiting a dealer.
To make 'Store Visits' the centerpiece of their digital advertising strategy, we have altered their Google Ads accounts. By combining Portfolio Bid Strategy, Store Visits Optimization and Shared budgets we are set-up to drive maximum football traffic to the dealer stores.
Moreover, this strategy ensures highly automated and cost-efficient management of their Google Ads investments.
Portfolio Bid Strategy: optimize bids across multiple campaigns
Store Visits Optimization: optimize bids for Store Visit Conversions
Shared budgets: optimize budget across multiple campaigns.
Moving from an online to an offline conversion strategy has boosted traffic to their dealer stores and overall improved the relationship with their dealer network.
It allows their sales representatives to say: "Thanks to our (national) digital campaigning, we influenced X number of store visits" when they visited a local dealer.
Shared Budget - An Automation Solution or A Lazy Solution?
The Pro's and Con's of Using Shared Budget
Pro's:
Shared Budgets are created to help you save time. If you manage a lot of small campaigns bundling the budget management of these campaigns could save you time.
In theory, Shared Budgets should shift budgets across all campaigns included in the Shared Budget based on the performances. This would imply that your available budget is always managed in the best possible way to reach your objective. In practice, you need to test and learn if indeed you have better performance in a Shared Budget set-up.
Con's:
Loss of control. With a Shared Budget, you obviously won't be able to control the ad spend per campaign. You won't be able to push specific campaigns if you have promo's, products or categories to push. You could however create a shared budget per category if that suits you better.
Uncertainty on the objective. It's not certain that a shared budget actually takes your objective into account to optimize your spend. It has never been put on paper that Shared Budgets are looking at your objective to make the budget distribution.
In summary, some might argue that using Shared Budgets is the lazy solution. Others would praise it as a great automation solution. The truth is as always somewhere inbetween.
Therefore, we recommend testing the approach for your specific client.
---
Tags: