During the summer period, many companies run their summer campaigns promoting products like barbecues, swimming pools,... They often develop sunny creatives to fit the summer period and resonate with people. However, the Belgian weather is very volatile and an advertisement with a swimming pool and people enjoying the sun might not be the best fit during cloudy and rainy days. Now, you could turn off those ads during the less sunny days, but it's not easy to predict the weather for the coming days. Then, imagine you have campaigns running all over Belgium, you would have to perform this action for the different cities/regions as weather may vary from one place to another.
Instead of checking the weather forecast every day and manually turning on/off your campaigns, you could go for an easier, more automated approach by using "weather triggered" campaigns on Smartly.
First off, what is Smartly.io?
Smartly.io is a creative and ad buying automation platform that helps advertisers get better results on paid social media. For example, it can help you automate ad creation with Dynamic Image Templates, edit and create visuals at scale and pull information dynamically into your ads from your feed. You can use it to optimize your campaigns on Facebook, Instagram, Pinterest and Snapchat.
How can you use Smartly.io for your weather triggered campaigns?
As mentioned above, you can use Smartly.io to pull information from a feed. In the case of weather triggered campaigns, this feed is a weather feed containing the current, hourly or daily weather forecast which is created by using a weather API. You can make use of some freely available API's which are free until a certain amount of API calls.
Let's first go over the steps to create this weather feed:
Smartly.io offers a service to easily create the weather feed called Weather Magic. You will first have to go to this website to get started.
Select your preferred weather API. A weather API allows you to access current, past and future weather data for use in apps and on websites or in our case to use for our advertisement.
Smartly.io offers 2 options: OpenWeather and AccuWeather. You can choose the one your prefer, in our case we went with the OpenWeather API as this has a broader range of available cities and you have a higher amount of API Calls/min with the free versions of OpenWeather API than with AccuWeather.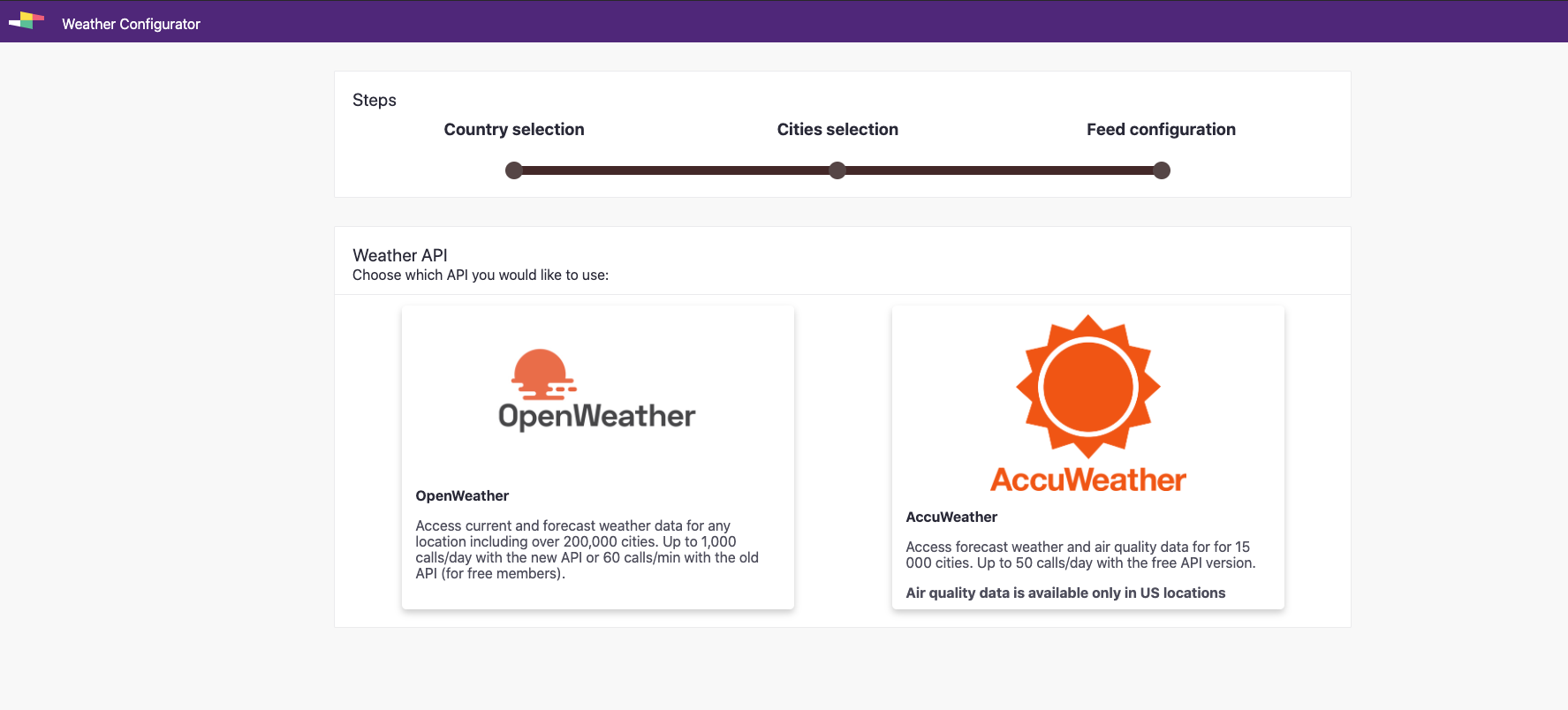 Select the country in which you want to have your weather data.
Select the cities you want to add. Take into account that the free versions of these API's only allow a certain amount of cities to be included. With AccuWeather for example, there is a maximum of 60 locations at a time.
Sign up for (the free version of) your API, you should receive a token via mail that you can insert to create your weather feed.
You can select different metrics such as:

current data;
hourly forecast;
daily forecast.
We would recommend using the daily forecast as otherwise the ads will change too often with the temperature being lower in the morning/evening than during the day.
After following these different steps you'll receive a link to your weather feed which you can add as a Feed to your Smartly.io account in the account settings.
With this Feed, you'll be able to create an automated ad campaign that turns your ads on/off based on the data in your feed and the scenarios that you have defined.
An example of this would be:

When the temperature is below 25°C, the ad will be paused. As soon as the daily temperature is equal to 25°C or above, the ad will be automatically activated again.


In this way, you can make sure that your ads are only live when they are relevant.
There are of course many different ways to apply this to your campaigns, and at Semetis we're looking forward to exploring the possibilities. Some possibilities would be:
Use it in the winter. Do you have a campaign creative that only works when it's snowing or freezing? Set-up a rule based on the weather condition to turn the campaign on/off.
In our case, we only used the weather based rules to turn on/off your campaign. However we could imagine displaying the current temperature or other weather conditions on our ads. This will then automatically be adapted based on the feed.
---
Tags: