Semetis is the first Belgian agency to be a Mixpanel certified partner. Mixpanel is a user & product analytics solution focused on collecting accurate data, identify trends in order to understand why users take certain actions so the product & customer journey can be improved. Mixpanel is a solution designed for product teams & seeks to help organizations drive excellent user experiences through product understanding & improvement. More information can be found on our Semetis Mixpanel partner page.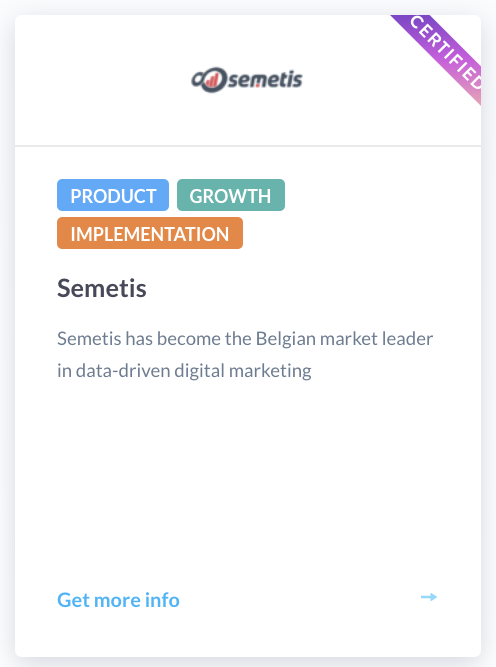 "This certification is another step for us to help organisations build better customer experiences that make their business grow. Where other analytics tools are great for purely trend detection when it comes to media & marketing, Mixpanel provides us with detailed insights on how users interact with products & websites. It allows us to build hypotheses, test against them & improve the product in incremental steps in order to drive success through the organisation's assets. We're very pleased to be the first Benelux certified agency. This comes with the responsibility to educate & push the industry when it comes to customer & user-based analytics which is something that has always been part of our DNA." - Glenn Vanderlinden
Established in 2009 with an initial focus on performance marketing, Semetis has become the Belgian market leader in data-driven digital marketing. Semetis specializes in building state of the art digital marketing & tracking infrastructures that allow advertisers, brands & organizations to not only optimize & automate their marketing efforts across the acquisition & retention funnels, but also to improve their assets through product measurement & development cycles.
---
Tags: