Context
Marketeers have always been huge fans of acronyms. Some would say a way to complexify the simple tasks they are doing. It all started with media when terms such as CPC, CPM, CPA and DSP were thrown around. That evolved over the last years with the introduction of the term data management platforms or DMP's. More recently, we have heard about the birth of yet another buzzword-t customer data platforms or CDP's. For all of these, the underlying problem is the same: people often do not understand what they are talking about.
In order to settle the latest battle on DMP versus CDP and clarify the actual meaning and implication of the usage of each term, we'll be walking you through the concepts, the differences and most importantly what you should or should not invest in.
Below you'll find a quick reminder of the difference between a DMP and a CDP:
Why are DMPs not the right option ?
By now, your next question is probably the following: do I need to implement those tools? Objectively speaking, implementing a DMP or a CDP is a long term project. We are looking into time frames of several months if not years. Looking at how the market is evolving, we no longer recommend to implement a standalone DMP as part of your marketing technology stack. . Here are the 2 main reasons:
Nowadays the Demand Side Platform (DSP) such as Google Ads, Facebook, Ads, DV360, AdForm, The Tradedesk, etc. that agencies and advertisers are using to buy media inventory have embedded DMP like features. It allows you to (1) use or buy 2nd and 3rd party audiences within the platform itself and (2) to generate audiences and segments based on your 1st party data that are being passed through lookalike modelling solutions. Concrete examples of built-in DMP features are Facebook's lookalike audiences and Google Ads' similar audiences.
The industry in which we are evolving is pushing us towards a cookieless world. Recently Google has announced it wants to clean all third party cookies by 2022. Today already, if you look into a panel of European brands you can see that between 25% and 50% are affected by Apple's Intelligent Tracking Protocol (ITP) rules which are deleting cookies after 24h. Since DMPs are mainly using those cookies to identify their audiences it makes no sense for an advertiser to invest in such an expensive technology.
Why we recommend a CDP
On the other hand we recommend advertisers to look into CDPs. Indeed those technologies will allow advertisers to build 360° views of their customers and prospects. I want to insist on the prospect aspect as the idea behind a CDP is to be able to identify users through a unique identifier key such as an email. Consider the example of a website visitor who registered to your newsletter but is not yet a client. That person can be identified via his/her email, or any other unique id equivalent, and can already be mapped within your CDP.
The objective of a CDP is to collect and unify users' data. The collection part should come from all kinds of sources: web analytics, advertising, digital assets (website, application), CRM, store data, etc. Once collected and unified around users the objectives for the advertisers should be the following: (1) analyse users' behaviours, (2) segment your users in audiences and (3) activate those audiences through your communication channel. Indeed, your CDP should, in the beginning of the process, collect data from all your data sources and, at the end of the process, be connected to all the tools you are using for your communication channels: DSP's, CRM, assets (website, applications, etc.), chatbot and any other channel you might be using.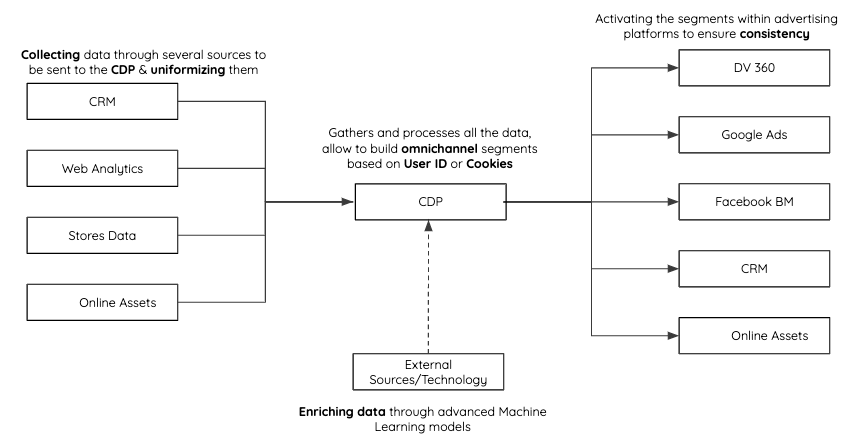 ---
Tags: